VAKI Hatchery System
---
Fully integrated and compatible with all species the Hatchery System is the fastest and most accurate, pump, grade and counting system available.
PUMP, GRADE AND COUNT
Pump self primes then fish are drawn into the pump from up to 3m below. 3″ to 6″ flexible lines can be used – recommend clear PU hose.
Fish are pumped into the grader. Recommend clear PU hose.
Fish are graded into up to 4 grades. Recommended rigid pipe from grader to counter.
Individual grades are counted by Macro Range counters. Recommend rigid pipe from counter to tanks.

HEATHRO FISH PUMP
Available as 6″, 8″ and soon 10″ pumps.
Very gentle on fish
Fish size from 0.2g to 400g
High capacity
Self priming up to 3 meters
Wireless remote control
Use with 3" to 6" hoses
Maximum combined lift of 8 meters
Horizontal transfer of fish over 500 meters
Stepless speed control
Easy to set up and move around site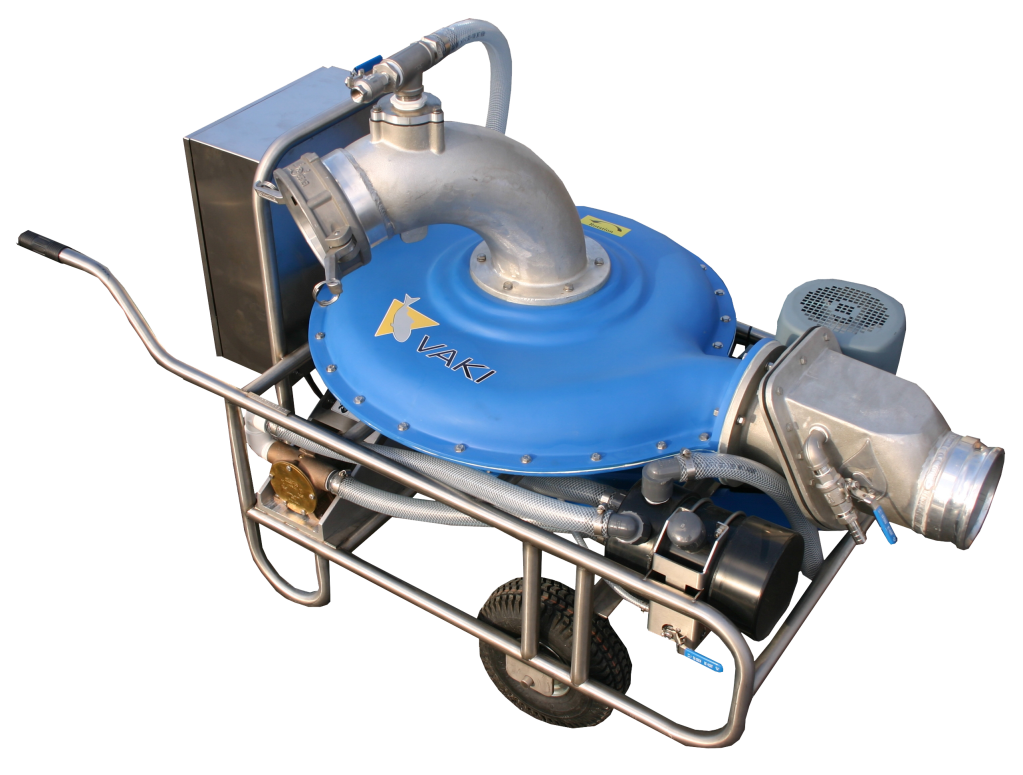 Smart Grader
Designed for high speed grading of small fish
Very gentle on fish
Accurate grading of fish from 0.2g to 200g
High capacity
4 grades
Height adjustable
Variable speed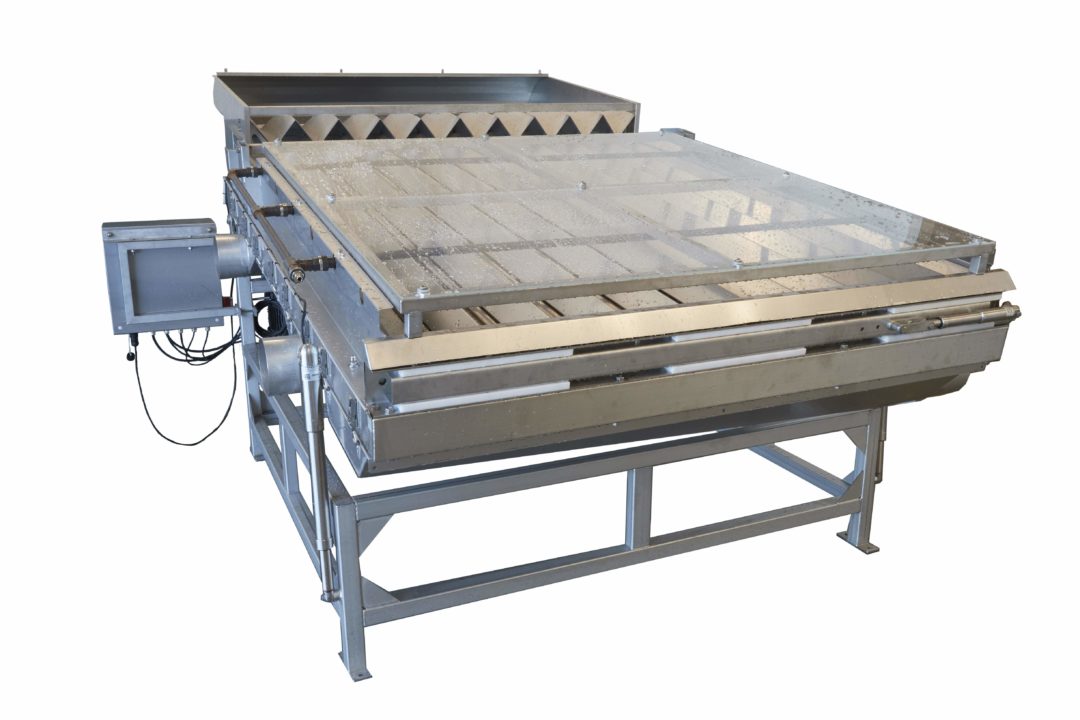 Macro and Micro Counter
Accurate counting of fish down to 0.2g
Over 98% accuracy
Up to 200,000 smolts per hour
Average weight and size distribution
Images are saved for verification of the counting
Counting report from the computer
Multi channel options
Wellboat version available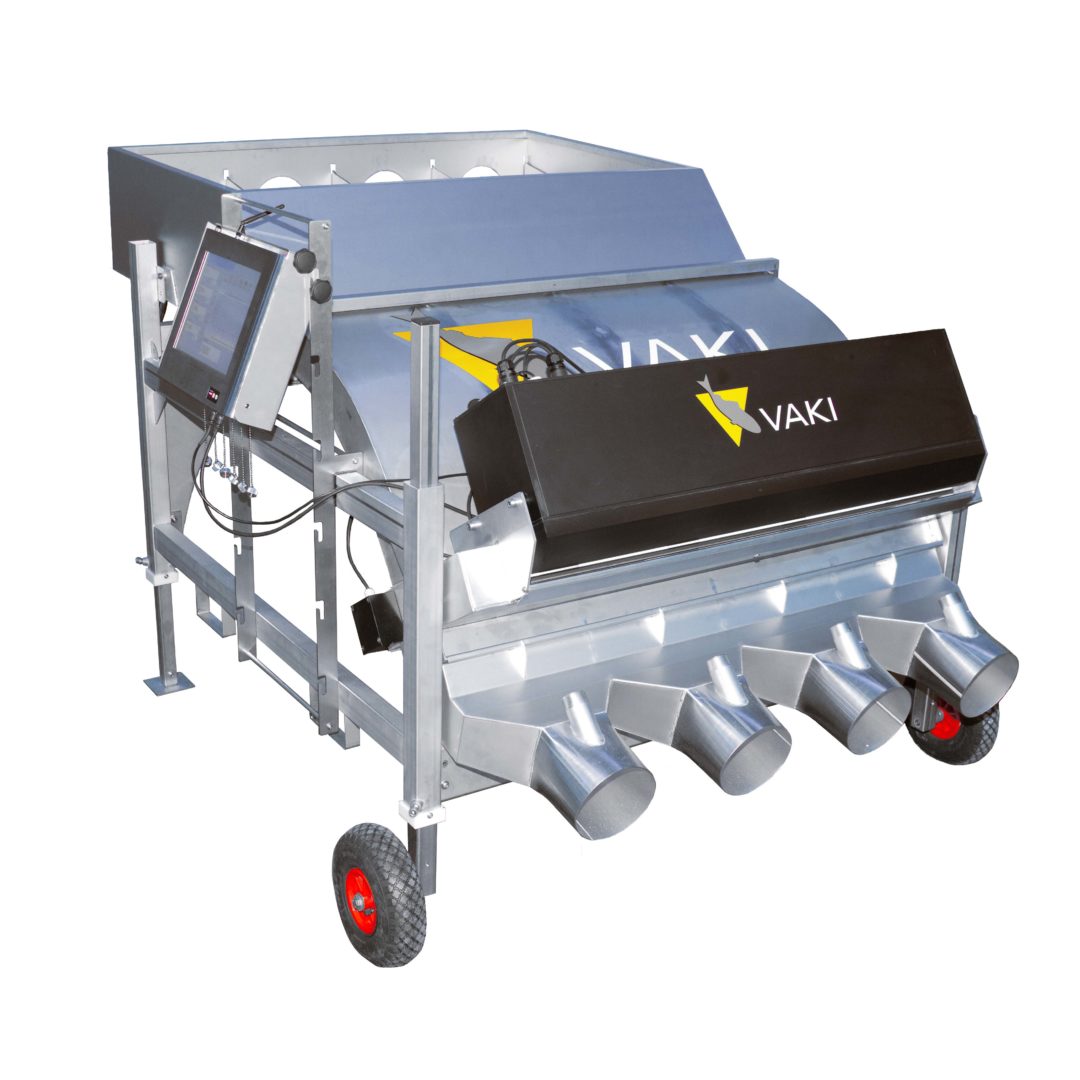 SERVICE
VAKI offers Customer Care Package for VAKI products. A service contract provides you with inclusive service checks that carried out online by our skilled service team, and there are no logistical issues or transport costs to worry about. This also gives us the opportunity to advise and make recommendations on the use of our products. We can also remotely identify any potential issues that may be affecting the accuracy or any repairs/replacements that should be considered. All VAKI Fish Pumps, Graders and Counters can be connected to the VAKI Smart Flow System and the VAKI Cloud. Many commercial fish farming operations utilize VAKI Customer Care Package to optimize their equipment and streamline their operations.
Customer Care Package Includes:
Counter registered into Online service history database.
Three routine Online service checks per year with email report.
All settings and systems check.
Visibility check for light strength, head/camera alignment, edge positions and bulkheads.
Calibration check.
Random selection of 2 files from the last service in hard drive checked for quality of images.
Hard drive clean up.
Report that contains recommendations regarding changes to alignment, cleaning and other issues highlighted during the Online checks.
Priority service customer for additional Online support.
1x count quality report, per year.
All applicable software fix upgrades free.
25% of additional function change software packages.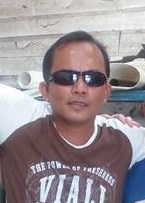 The VAKI Hatchery System has been helpful for us to make the transfer of our fingerlings more effective and soft. Now we have optimal size distribution and know exactly how many fish we have in every cage.
SINODE GODANG SINAGA
REGAL SPRINGS TILAPIA, INDONESIA

+354 595 3010

Akralind 4, 201 Kópavogur