VAKI Biomass Daily
---
With a Biomass Daily frame placed permanently in each cage fish are continually measured with pinpoint accuracy. For every site and every cage the daily overview of average weight, size distribution, condition-factor and growth is available 24/7. The measurements are collected with no stress and no negative impact on fish welfare or feeding.
BIOMASS DAILY PROVIDES YOU WITH
Overview of all cages and live data accessible online.
Larger samples, more accuracy.
Daily information on average weight, growth and size distribution.
Average condition factor and distribution.
Simple but powerful analysis of data.
ACCURATE INFORMATION ENSURES OPTIMAL DECISIONS
Real time comparisons between cages and sites.
Changes in growth patterns detected as soon as they occur.
Select optimum cages and dates for harvest.
Optimize grading and splitting.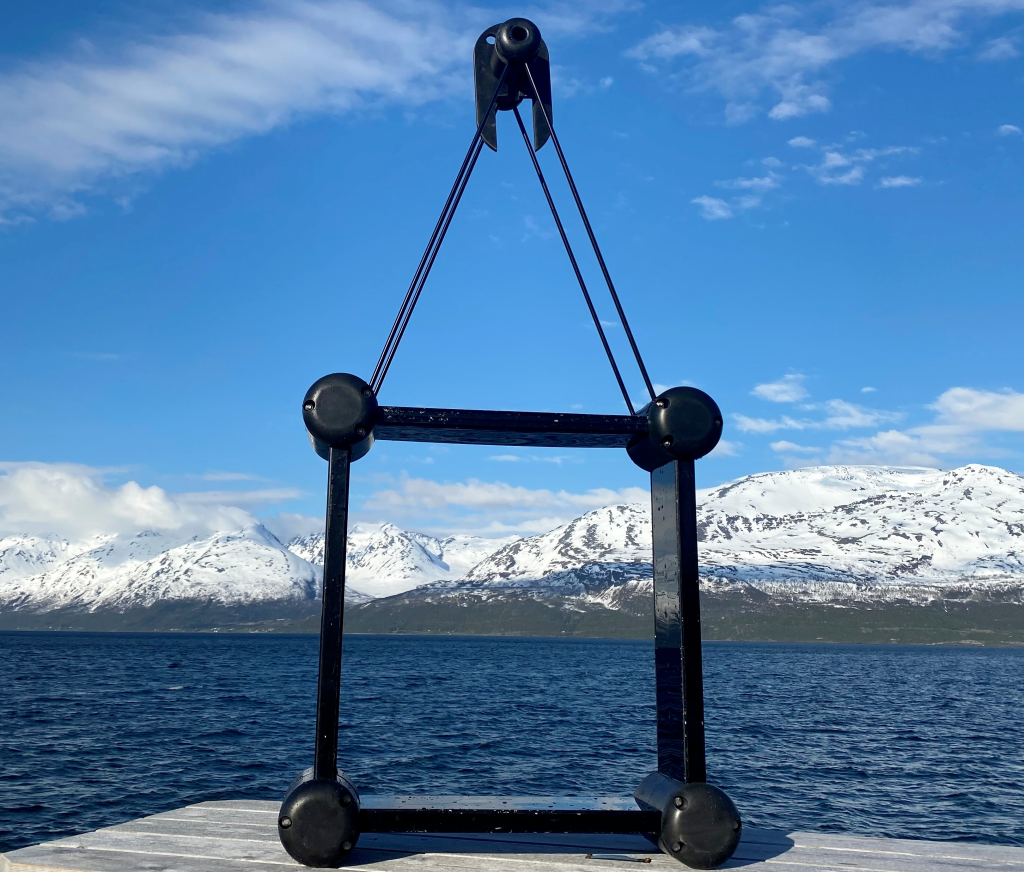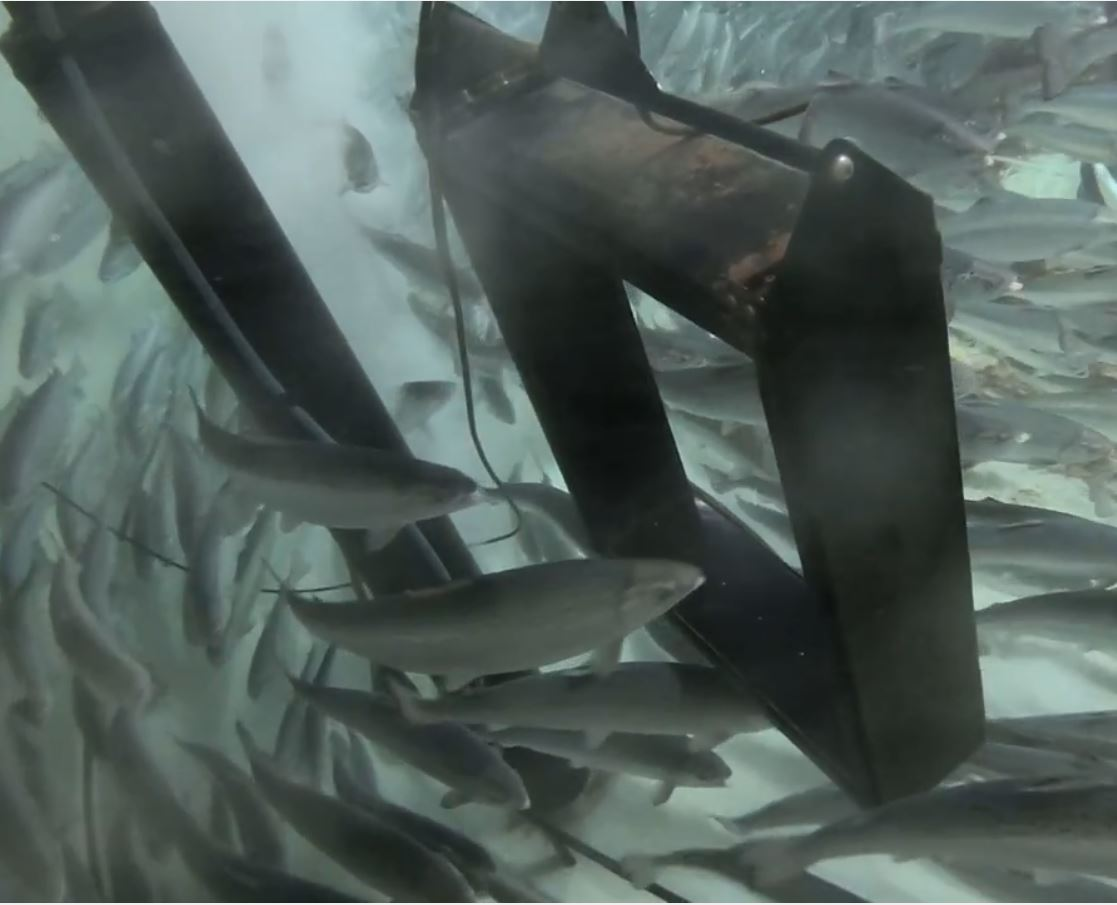 BIOMASS TRACK INDIVIDUAL FISH WITH BIOMASS DAILY/PIT TAG
Combined knowledge from Biomark and VAKI Fish Counting & Biomass Applications
The Biomass Daily/PIT Tag Antenna incorporates Biomark technology to effectively track individual fish within each cage*.
Biomark PIT Tag ID's are paired with Biomass data to deliver key insights from food and vaccine trials and programs.
* PIT Tag antenna requires Biomark Advanced Performance Tag 12mm – APT12.
FALCON SEA LICE CAMERA
The new, always-on Falcon sea lice camera from MSD Animal Health delivers an intelligent and actionable snapshot of the sea lice data for your salmon stock. With reporting and insights delivered directly from the pen to your desktop, as well as accurate and continuous monitoring 24/7, detection and reporting are now easier than ever. Saving you both time and money.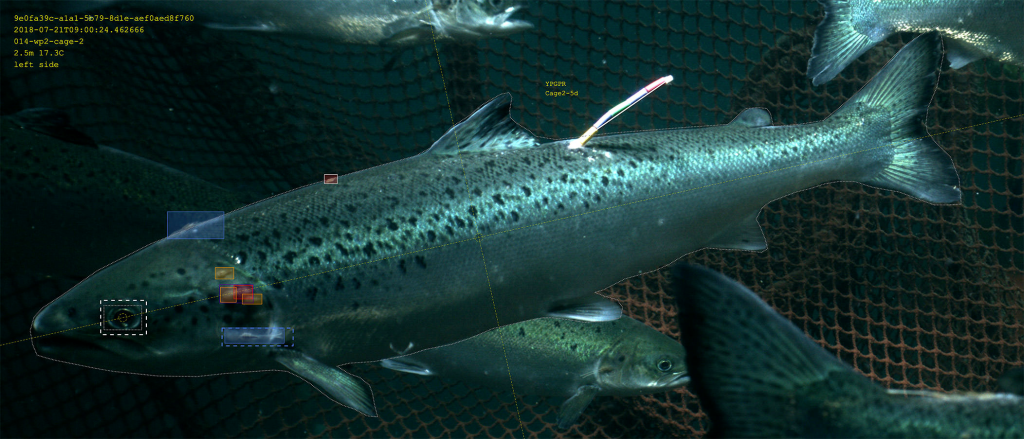 INSTALLATION AND OPERATION
A trained technician from VAKI will assist you on first installation, you will be trained to perform daily tasks during the install. A frame is placed in each cage and the wireless radio link from the cage automatically transfers the data to a central base. All measurements are available in a web-based reporting application, which can automatically send daily detailed reports to selected recipients. With Biomass Daily the fish farmer has more time to attend other tasks and fish are not exposed to unnecessary stress.
Frame installed in every cage.
Wireless transmission from cage to barge.
Automatic calculation of size and condition factor (CF).
Continuous measurements, 24 hours, 7 days a week.
All data accessible online.
Automatic reporting.
Online guidance and support is included in rental fee.
BENEFITS
Accurate average weight, distribution and condition factor.
Continuous measurements (multiple reference points).
Growth rate displayed over any time period.
Increased Bio Security.
No specialist needed to operate equipment and gather data.
Remote monitoring of the operational status of the system.
Periodic performance monitoring.
Accurate reporting and accounting of biomass.
Technology
---
Tools for optimal positioning of the Biomass Daily frames
To improve the accuracy and the quality of the sample VAKI has developed a set of tools that will make positioning of frame easier, faster and safer.
Sending Box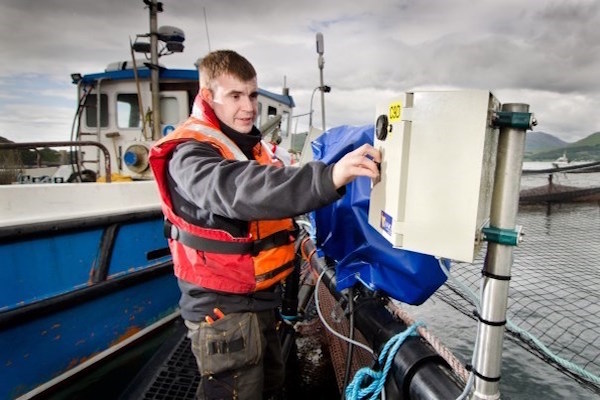 Wireless transmission of data from cage to PC.
Live data from all cages accessible 24/7.
Sonar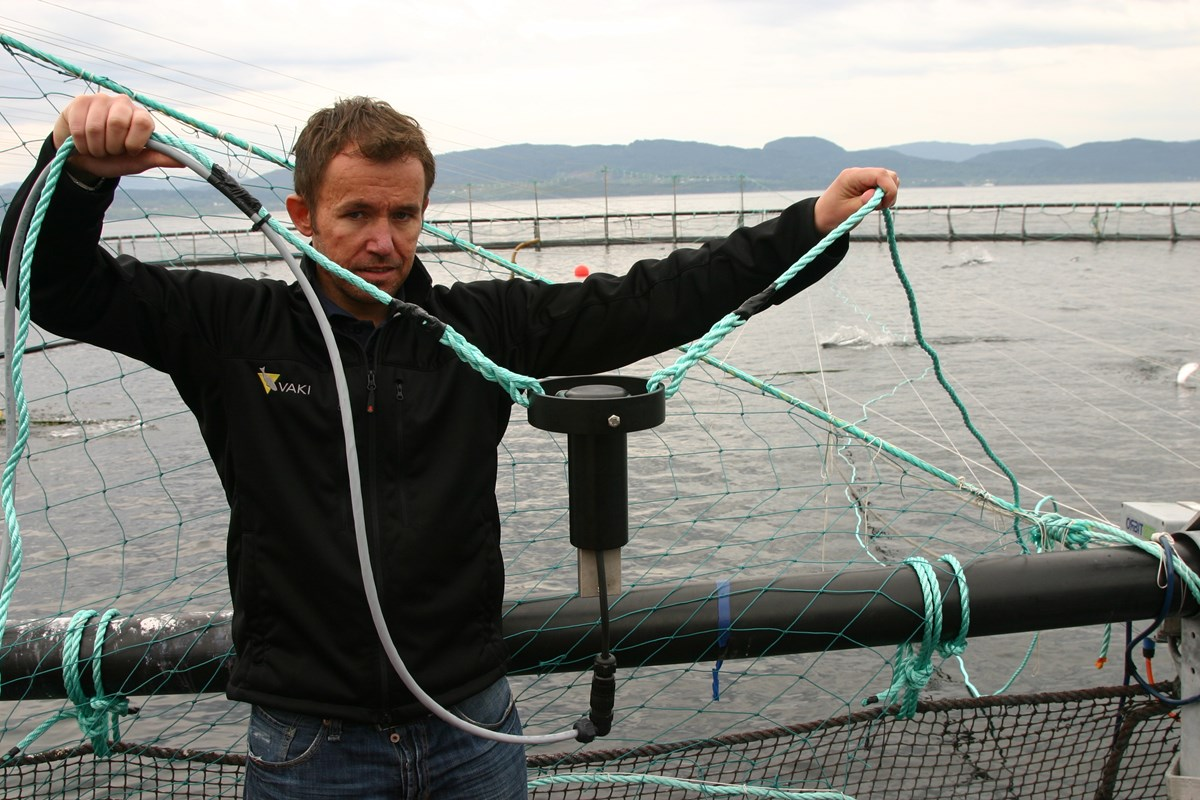 To monitor the movement patterns of the fish VAKI have developed a special sonar version to help you position the frame correctly.
Camera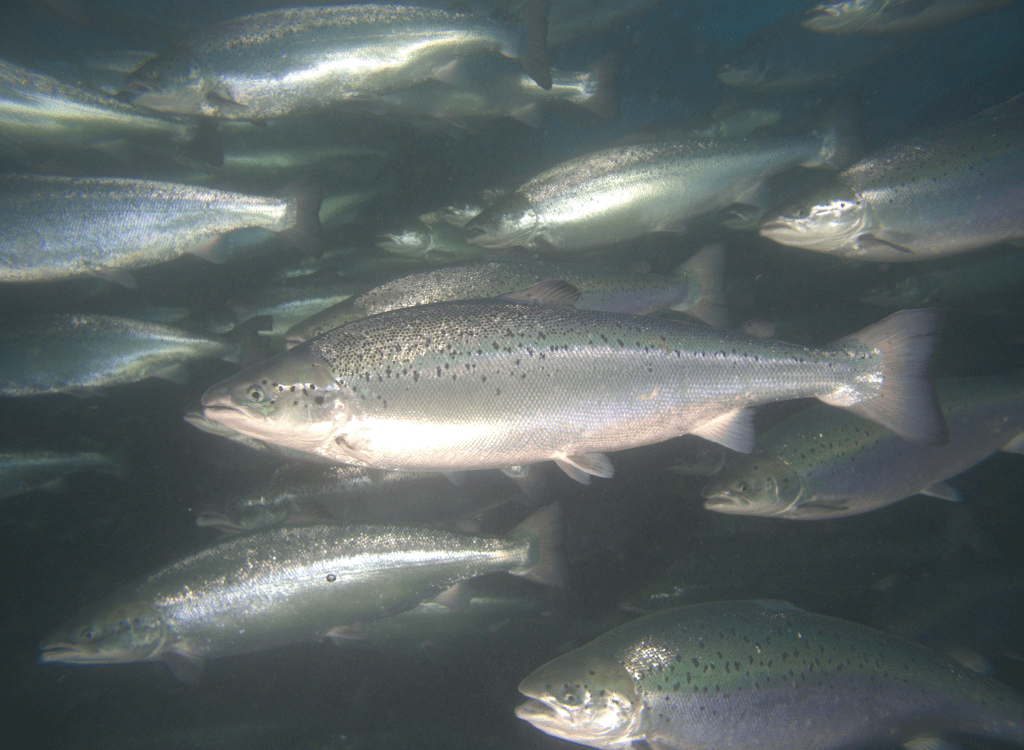 A surveillance camera can be mounted to the frame to assist operators to find the most populated area of the cage at any given time. This also provides security in terms of avoiding the net and other equipment in the cage. The camera is not installed to measure fish it is just a positioning tool. The camera is an IP camera and can be connected to your barge through a number of available channels.
Winch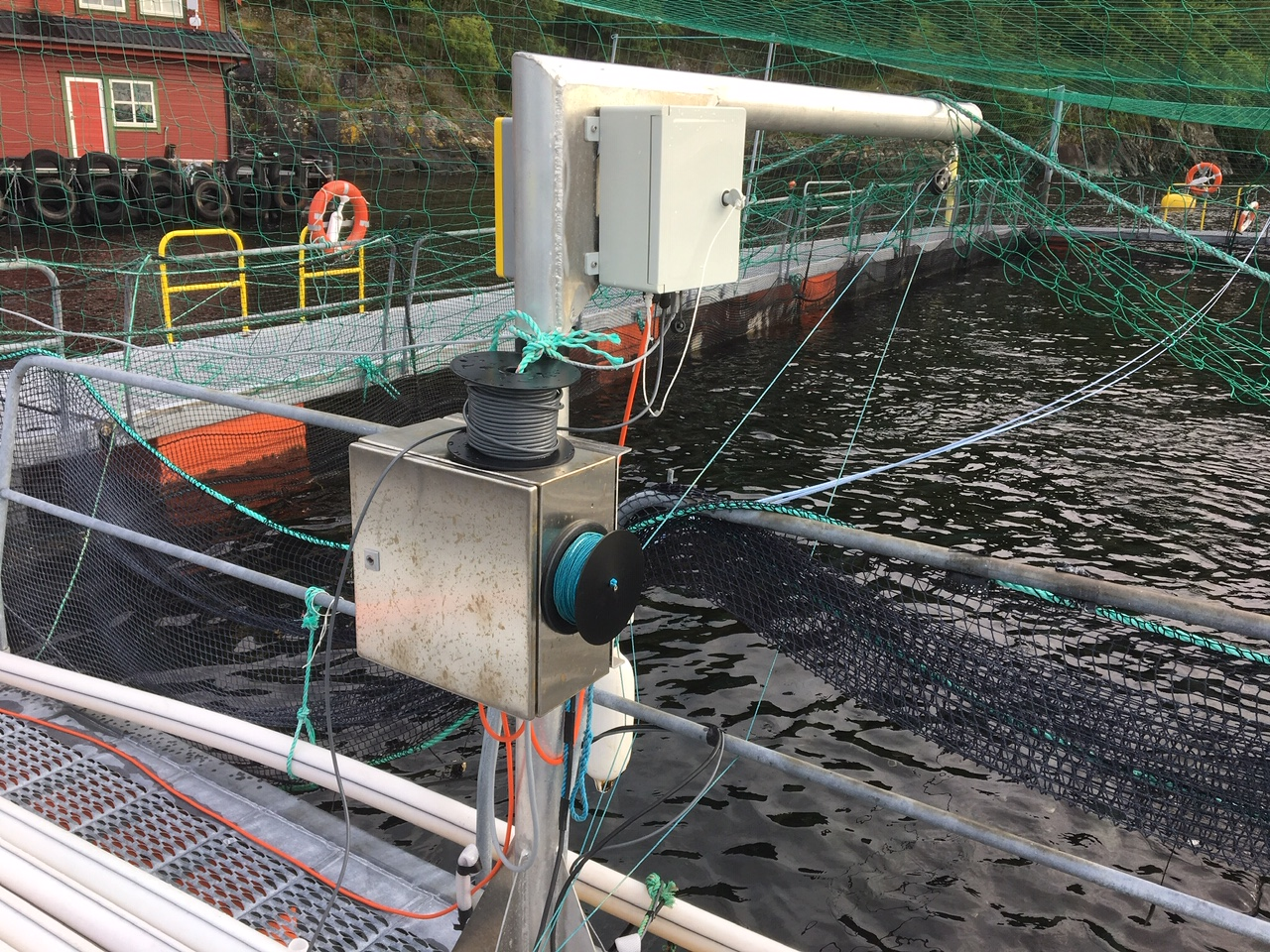 To improve and ease positioning further VAKI now offer a winch specially designed to handle heavy items such as the frame. The winch communicates with the depth-meter of the frame and can be controlled in the same dashboard as the frames. Please note that winch can only be used in combination with camera, this is of security reasons. Trials done with winch control shows better accuracy through more representative samples.
SOFTWARE
CONTINUOUS MEASUREMENTS NIGHT AND DAY
Measures 24/7 regardless of visibility or time of day, ensures that the measured fish are a good mix from the whole population in the pen.
THE USE OF DATA
Reporting accurate weight and size distribution to harvest.
Lower overall FCR with focus on periodic FCR.
Monitoring growth, comparing to environmental factors.
Controlling production wrt. Maximum Biomass Allowance.
Correcting growth models with data on real growth
Decisions on grading or splitting.
Correct insurance value and for internal reporting.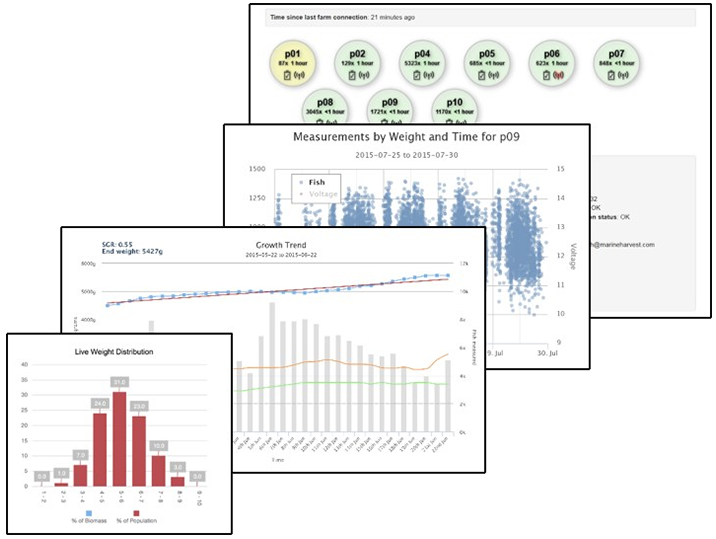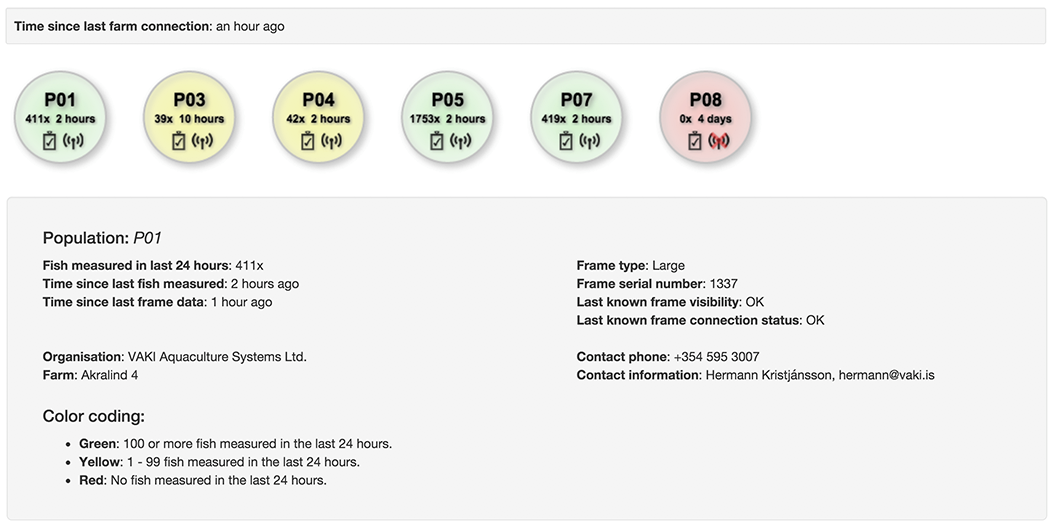 THE GROWTH TREND
Daily measurements based on thousands of fish over a long period of time.
With Biomass Daily fish are measured continuously and the data is collected over a long period. Thus, it is possible to follow the growth curve and therefore focus on the feed conversion and growth, whether it is in line with temperature, feeding and other factors affecting the growth.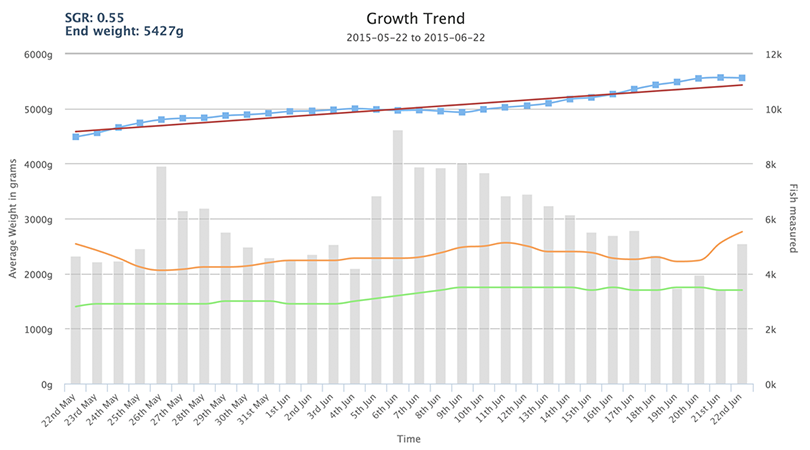 FCR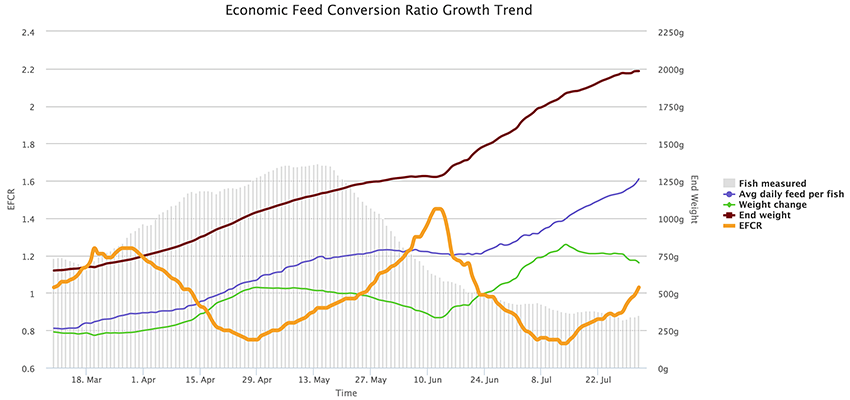 MONTHLY SUMMARY
Monthly report shows three graphs, growth in the last 30 and 90 days, and since the weight / time graph.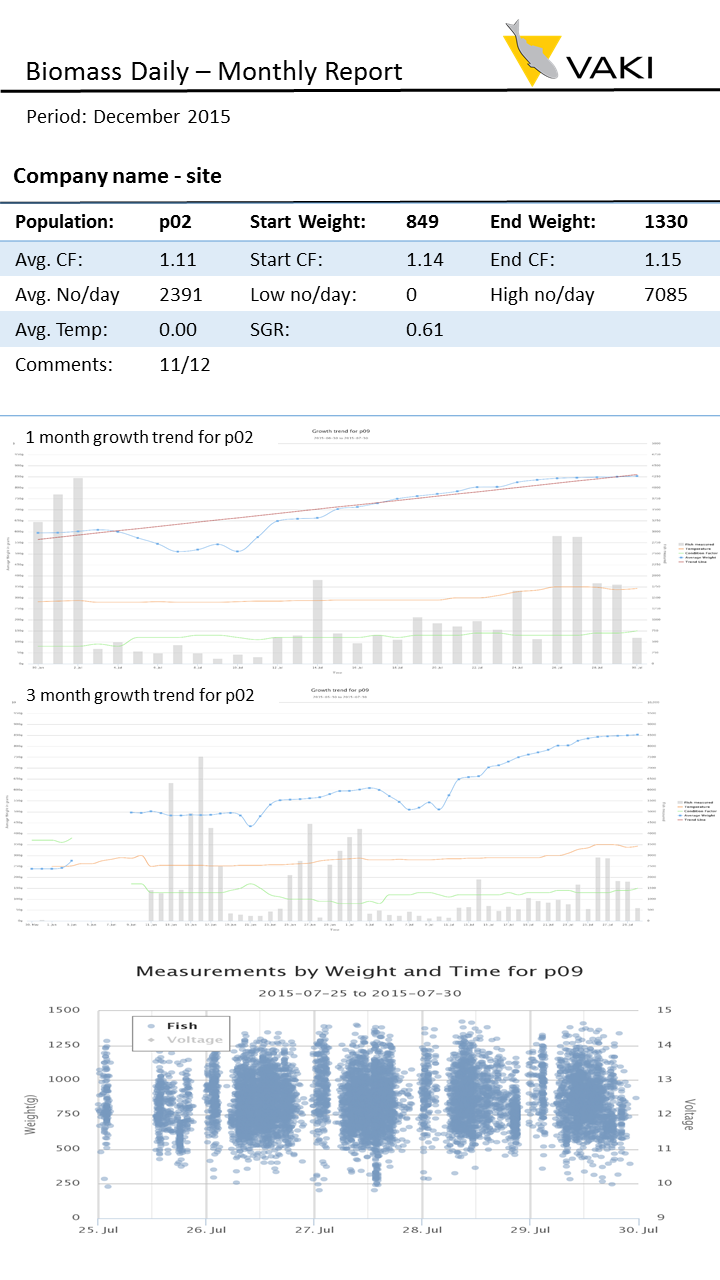 Gallery
---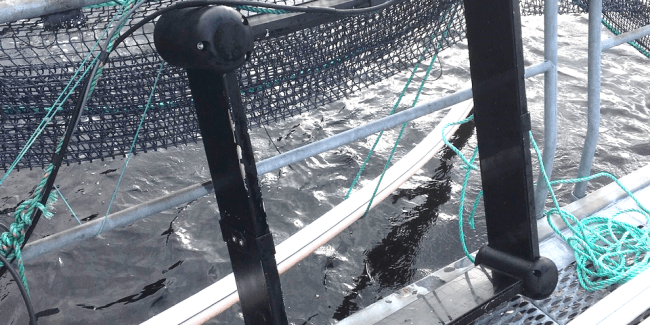 +354 595 3010

Akralind 4, 201 Kópavogur